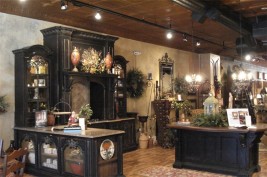 As the only showroom of its kind in the Chicago area to feature a complete custom kitchen cabinetry display from Habersham, M. Home – located at 48 S. Washington Street, Suite S, Hinsdale, IL 60521 – brings our designs together with other high-end lines to create a welcoming environment filled with inspiring ideas for today's home. To learn more about this beautiful store, check out their website www.mdesigninginteriors.com
M Home now joins a growing number of retailers offering homeowners and designers an ideal way to get a first-hand look at the versatile styles and many custom options we now offer. Among them:
Susan Thomas Home unveiled the New England area's first "Habersham Home" lifestyle store in November 2008 – a 7000-square-foot store in Needham, MA located at 100 Highland Avenue. www.susanthomashome.com
In addition, Scottsdale-based Feathers Custom Furnishings and Fabrics launched that region's first "Habersham Home" lifestyle store in January 2009. Encompassing more the 10,000 square feet within Feathers' existing retail showroom at 15330 N. Hayden Road, Suite 110, Habersham Feathers features furniture, cabinetry and the lovely licensed upholstery designs they've done for us. www.feathersdesign.com
If you live in any of these areas, I invite you to stop by these wonderful stores for unexpected ideas and lifestyle looks you can bring into your own home. And, look for more information on other retail openings coming soon.