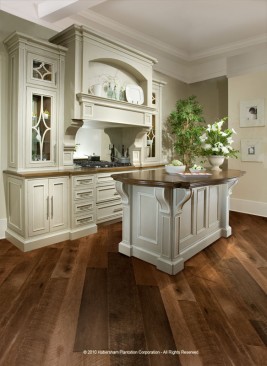 Today's custom kitchen cabinetry designs have helped the kitchen evolve into the central gathering place for family and friends. As described by the National Kitchen and Bath Association (www.nkba.org) in a recent trend release:

" Kitchen design has reached a new level of integration. The quiet incorporation of the kitchen into the home's primary living and entertaining rooms provides homeowners with far more flexibility in their lifestyles. The incorporation of integrated and concealed appliances allows the kitchen to enhance rather than intrude into other spaces. Clean structural lines coupled with sleek color palettes enable the space to establish a distinctive identity, without overpowering the surrounding rooms."
Our brand new American Treasures ® Custom Kitchen Cabinetry certainly speaks to this trend with its clean lines and versatile finish options. Like the furniture pieces that are also part of the new collection, this versatile style is designed to blend perfectly into any décor – from formal to contemporary to casual.