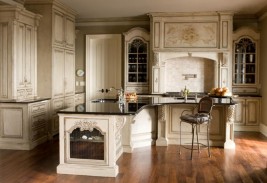 The National Kitchen & Bath Association (www.nkba.org) recently conducted a survey of designers to review key design trends for 2010 and many of the results line up nicely with what we are seeing and hearing from our own designers and customers here at Habersham.
In the kitchen area, the survey indicated that traditional will continue to be the most popular kitchen design style this year, with contemporary following closely behind, while the Shaker style is seeing a surprisingly strong resurgence. NKBA also reported that shades of whites and off-whites will be the most common kitchen colors in 2010, while brown, beige and bone hues will also be popular.
Other survey results also pointed to a growing trend of under-counter refrigerator doors being used in the latest kitchen designs. In addition, the survey anticipates that an increasing number of dishwasher drawers will be installed in kitchens this year for their convenience and their ability to wash small loads of dishes in each drawer, thereby saving water and electricity. What's more, the survey suggested that the tried-and-true range continues to serve as the workhorse for cooking, although the combination of a cooktop and wall oven is beginning to overtake it.
Like the kitchen, the survey also suggests that traditional will be the most popular design style in bathrooms in 2010, as contemporary designs will be a distant second, followed by the Shaker style as an even more distant third. Beiges and bones will be the most common colors used in bathrooms, followed by whites and off-whites, and then by browns, indicating a somewhat subdued color palette this year.
If you'd like to read more about all the trends NKBA has identified, click here