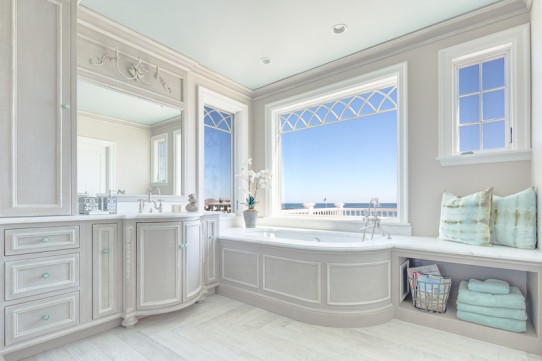 According to the National Kitchen & Bath Association (NKBA) 2016 Design Trends Survey, clean, modern style and neutral colors dominate North American bathroom design today. As reported in the association's press release, here are the top 10 overall bathroom trends NKBA expects for 2016:
Clean, modern, transitional designs
Universal design features
Neutral colors
Open shelving, floating vanities and wall-hung toilets
Built-in storage
Undermount sinks
Freestanding tubs
Shower amenities like hand showers and shower lighting
Polished chrome faucet finish
Electric radiant floor heating and a number of other amenities
According to the survey, transitional is by far the most popular bathroom style, outpacing 2015's top contemporary style trend by 10 percentage points. Nearly 70 percent of NKBA designers surveyed expect to specify transitional style bathrooms in 2016.
Neutral colors dominate the bathroom, with white being the most popular fixture color and whites and grays being the most popular overall color schemes. Seventy-nine percent of members surveyed indicated grays as the most popular color scheme, with whites/off-whites trailing close behind at 77 percent. Keeping with the popular neutral-tone theme, beiges/bones were specified by 65 percent of NKBA members surveyed.
We are certainly seeing some of these trends play out in a number of projects we're working on with our design partners.
To read more about the survey, visit www.nkba.org