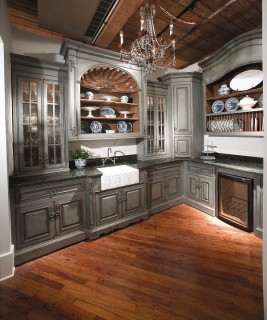 Gone are the days when the butler's pantry was merely for storing china and serving pieces. Today, this versatile and functional space has moved to the center of the party – as a key area for entertaining. We've been paying close attention to this trend here at Habersham
Whether your available space is large or small, we've worked to create cabinetry designs that can most effectively meet your needs. Our butler's pantry designs provide practical storage above and below, ample countertop work surfaces, glass-front cabinets, plate racks and countless other elements that add to their functionality. We can also work with you to add other custom features that further maximize service and work space, creatively hide or showcase appliances, serveware, china, crystal and other accents.
In addition, you can choose from countless hand-painted and wood stained finish options and design styles that mirror your own design vision. To see some of our more recent Butler's Pantry installations, click here.