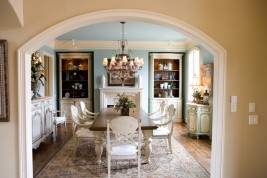 Our highly skilled team of trained artisans and craftsmen will work closely with you to create high quality, made-to-order furniture and cabinetry designs that truly reflect your own personality and sense of style. One of the ways we do this is by offering you a virtually unlimited color palette of hand-styled furniture finish options .
Choose from the wide spectrum of textures and tones found within our own family of signature hand-styled furniture finish options , including Connoisseur, Studio, Gallery and Essentials. Each offering distinctive looks created by trained artists using a series of techniques, tools, and exacting standards. Or, look to the vast palettes of Benjamin Moore ® and Sherwin-Williams ®, which collectively encompass more than 4,400 different colors.
From aged, distressed influences to simpler, cleaner styles, our artists can create the look you seek using any color you desire. Visit our website to see some of the recent projects we've created for our clients.