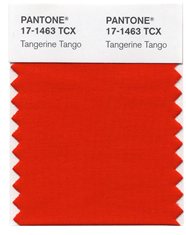 Here at Habersham we're always tracking color and design trends and I thought you might like to know that Pantone, the global authority on color and provider of professional color standards for the design industries, has recently announced its color of the year for 2012 – Tangerine Tango. As they outline in the announcement press release :
The 2011 color of the year – PANTONE 18-2120 Honeysuckle – encouraged us to face everyday troubles with verve and vigor. Tangerine Tango, a spirited reddish orange, continues to provide the energy boost we need to recharge and move forward.
"Sophisticated but at the same time dramatic and seductive, Tangerine Tango is an orange with a lot of depth to it," said Leatrice Eiseman, executive director of the Pantone Color Institute ®. "Reminiscent of the radiant shadings of a sunset, Tangerine Tango marries the vivaciousness and adrenaline rush of red with the friendliness and warmth of yellow, to form a high-visibility, magnetic hue that emanates heat and energy."
To arrive at the selection of color of the year, Pantone quite literally combs the world looking for color influences. This can include the entertainment industry and films that are in production, traveling art collections, hot new artists, popular travel destinations and other socio-economic conditions. Influences may also s tem from technology, availability of new textures and effects that impact color, and even upcoming sports events that capture worldwide attention.
How might this color play out in home interiors? Pantone suggests that you can energize interior spaces with Tangerine Tango patterned home accessories. Pillows, bedspreads and tabletop accessories in this high-impact hue add spice to any room. Or incorporate Tangerine Tango appliances and personal electronics for an unexpected pop of color. Looking for an inexpensive way to perk up your home? Paint a wall in Tangerine Tango for a dynamic burst of energy in the kitchen, entryway or hallway.
If you'd like to know more about Pantone and the new color of the year, visit www.pantone.com