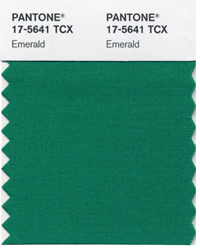 Here at Habersham, we love tracking color and design trends. We were delighted to read that PANTONE, the global authority on color and provider of professional color standards for the design industries, just announced PANTONE ® 17-5641, a lively, radiant, lush green, as the Color of the Year for 2013. As detailed in their announcement press release:
The 2012 Color of the Year, PANTONE 17-1463 Tangerine Tango, a spirited, reddish orange, provided the energy boost we needed to recharge and move forward. Emerald, a vivid, verdant green, enhances our sense of well-being further by inspiring insight, as well as promoting balance and harmony.
Most often associated with brilliant, precious gemstones, the perception of Emerald is sophisticated and luxurious. Since antiquity, this luminous, magnificent hue has been the color of beauty and new life in many cultures and religions. It's also the color of growth, renewal and prosperity – no other color conveys regeneration more than green. For centuries, many countries have chosen green to represent healing and unity.
"Green is the most abundant hue in nature – the human eye sees more green than any other color in the spectrum," said Leatrice Eiseman, executive director of the Pantone Color Institute®. "As it has throughout history, multifaceted Emerald continues to sparkle and fascinate. Symbolically, Emerald brings a sense of clarity, renewal and rejuvenation, which is so important in today's complex world. This powerful and universally appealing tone translates easily to both fashion and home interiors."
The release goes on highlight how emerald can enhance home interiors too:
Enhance your sense of well-being at home by rejuvenating the interior with Emerald paint, accents and accessories. This jewel-like hue will create a luxurious feel in an entryway, powder room, dining room or study, and bring life to a living room as an accent wall. Add a splash of color to the kitchen and dining room areas with Emerald dinnerware, stemware and appliances.
If you'd like to learn more about the color and Pantone, visit www.pantone.com