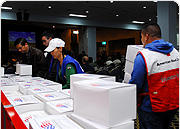 Our hearts and prayers are with the people of Japan as they struggle to recover from last Friday's devastating earthquake and tsunami. According to the latest reports, an estimated 200,000 people are living in temporary shelters, more than 1 million are without water, and the list goes on and on.
Rescue and recovery efforts have begun in earnest and are expected to last for months. If you're looking for ways to help, here is a short list of some of the international organizations working on the relief efforts:
The American Red Cross: Japan Earthquake and Pacific Tsunami Relief
www.redcross.org
Text REDCROSS or 90999 to make $10 donation by text message.
Save the Children: Emergency Relief for Japan Quake
www.savethechildren.org/japanquake
Toll free: 800-728-3843
Text JAPAN or 20222 to donate.
Salvation Army
donate.salvationarmyusa.org
Toll free: 800-SAL-ARMY
Text QUAKE or 80888 to donate $10
International Medical Corps
www.internationalmedicalcorps.org
Text MED or 80888 to donate $10
Doctors Without Borders
www.doctorswithoutborders.org
Global Giving
www.globalgiving.org
Text JAPAN or 50555 to donate $10
World Vision
www.worldvision.org
Toll Free: 888-56-CHILD Text 4JAPAN to 20222 to donate $10