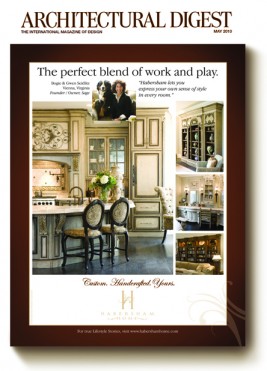 The May 2010 issue of Architectural Digest features our Habersham Lifestyle Story highlighting talented interior designer Gwen Seidlitz, founder/owner of Sage in Vienna, VA.

Gwen chose Habersham furniture and custom cabinetry because, as she says in her Lifestyle story on our website, "As I worked through the interior design of my new home, I knew that Habersham would be my partner in creating our lifestyle. Their tastes and talent match mine perfectly. At the end of the day, we all love coming back to our Habersham Home."
To learn more about Gwen's story and those of other homeowners who have used our custom capabilities and furniture to create interiors that reflect their own styles and design sensibilities, visit the Lifestyle section of our site.