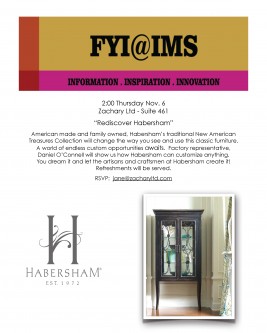 We were delighted to have the opportunity to partner with Zachary Ltd recently to host a designer event in their lovely showroom, Suite 461, at International Market Square (IMS) in Minneapolis. Held on November 6, the "Rediscover Habersham" event attracted 40+ interior designers.
During the program, designers had the chance to network, enjoy refreshments and hear from Habersham sales representative Dan O'Connell. During his program, Dan shared news on our ever-expanding custom capabilities – highlighting how Habersham can create custom fitted furniture for any and every room in the home – from the kitchen and master bath to the library, wine cellar and home office.
As the Upper Midwest's premier trade center for interior designers, IMS and the Zachary Ltd. Showroom provided a wonderful setting for the event. The Zachary Ltd showroom includes a wide selection of fine art, antiques, collectibles, upholstery, antique and reproduction lighting and, of course, custom designs from Habersham.
To learn more about Zachary Ltd, call 612 305 1201. To learn more about Habersham and our custom capabilities, be sure to visit the cabinetry and custom areas of our website.