Life at Reynolds Plantation revolves around the amazing natural beauty of rolling hills, pristine landscapes and the wide shimmering expanse of Lake Oconee. When Allison's clients, who reside fulltime in Melbourne, Florida, decided to build their second home in this much-desired area, working with Allison truly was a dream come true.
"Every client has a story to tell me about their ideas on life," says Allison. "The first thing I want to know is what is important to them, what is not, and how they'll want to spend time in the home we are creating together."
Her client's home is situated on a beautiful point in Reynolds Plantation and has 600 feet of waterfront with spectacular lake views from almost every window. "That means the outside is virtually part of the inside," Allison said. "So I knew the interior design had to reflect that beauty and become just as warm and inviting."
Allison Belans has been a kitchen designer for 10 years and works with her clients from the initial concept to the final details. Once the client's vision had become hers, as well, Allison knew that Habersham would give them the desired effect of nature "at home" in their house.
Habersham's custom-designed cabinetry was the perfect choice for a kitchen with 12-foot ceilings, a coffered ceiling detail that is 14 feet high, and a floor plan that opens into the family room, dining room and breakfast area. Because the kitchen is the center of this entire space, it allows for 23 to sit down and enjoy family, friends and great meals.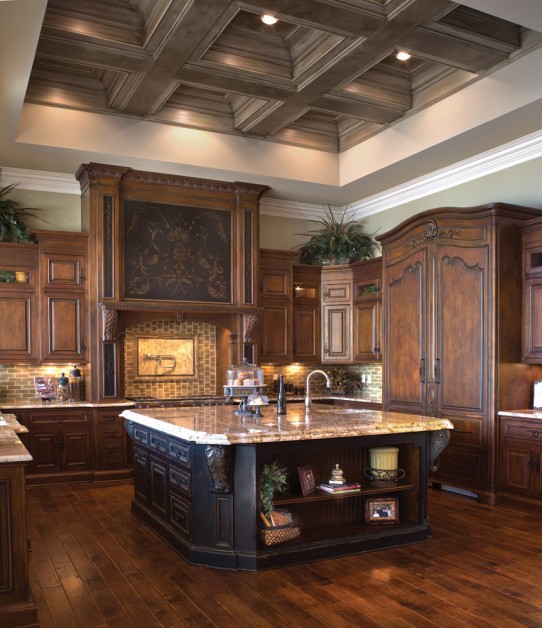 "One of the architectural points that I love the most is the massive mantle in the kitchen that features exquisite hand-painted Lombardy Art by Habersham. They offer such unique touches, color palettes and custom-crafted artistry that it's often hard to make up your mind," says Belans. "Habersham's options are amazing. And there's always something to match the sensibilities of my clients."
"My role is to be my client's advocate guiding them through the process of designing and building their dream home. My job is to support them in making good decisions and following through to the point of perfection." Then Allison Belans smiles and says, "My client's job is just to relax in their Habersham Home…and dream on."