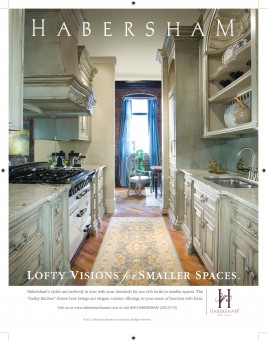 We will be showcasing our Galley Kitchen custom cabinetry design in the April 2011 issue of Architectural Digest and wanted to give you an advance look at our ad creative.
As we continue to expand our custom cabinetry capabilities, we're able to respond to growing demand for rich looks in smaller spaces. The galley kitchen shown in our new Architectural Digest ad brings together many of our custom offerings, ranging from finish options to range hoods, integrated refrigeration, curios, and more.
When it comes to finishes, choose from the wide spectrum of textures and tones found within our own family of hand-styled signature finishes, including Connoisseur, Studio, Gallery and Essentials. Each offering distinctive looks created by trained artists using a series of techniques, tools and exacting standards.