Scroll through the newest designs that joined our line during the recent April 2013 High Point Market. In addition to new pieces for our American Treasures ® and licensed Biltmore® Chateau Reserve Collections, we've also launched a new "Standard Custom" furniture line that gives you more custom options than ever before! New designs include: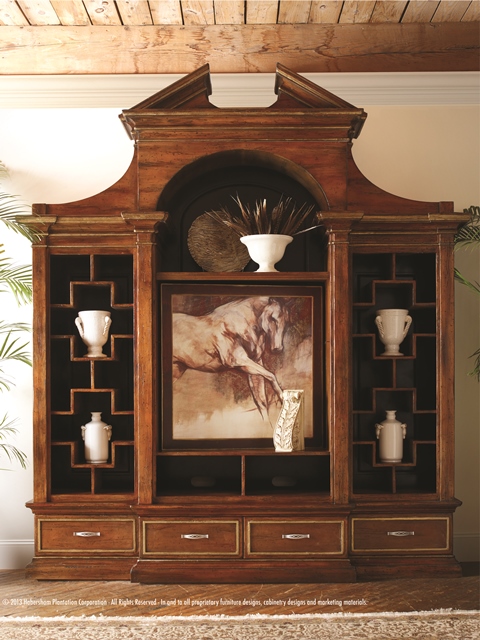 01-2790 Allison Home Theatre – A new addition to our popular American Treasures® collection, this striking design will hold most 60" TVs with its 60"w x 17"d x 39"h opening.
01-2366 Camber Sideboard – Another new addition to our popular American Treasures® collection, this design reflects classic styles that have been updated and simplified to create a versatile, clean, timeless look.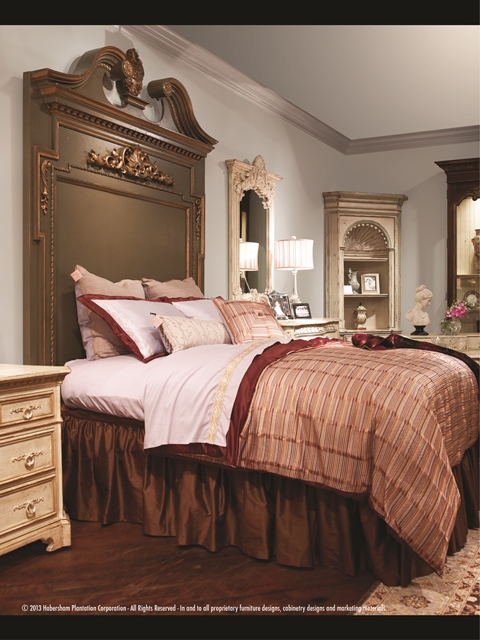 57-5800 Hardwick Bed – Named for Hardwick Hall, one of the most significant Elizabethan country homes in England, this design is sure to bring grandeur and style to today's home. Hardwick Hall is renowned as one of the earliest examples of the English interpretation of Renaissance architectural style.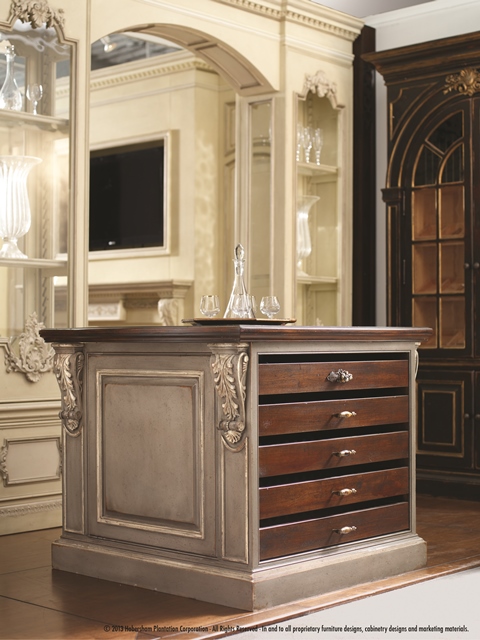 37-3056 Napoli Wine Island –Inspired by the beautiful Italian wine region of Napoli, this piece is as fabulous as it is functional. Ideal for a wine cellar, the island invites you to store and display your treasured wines in easy-glide, pull-out drawers. And, it offers the ideal setting to gather friends for tastings too.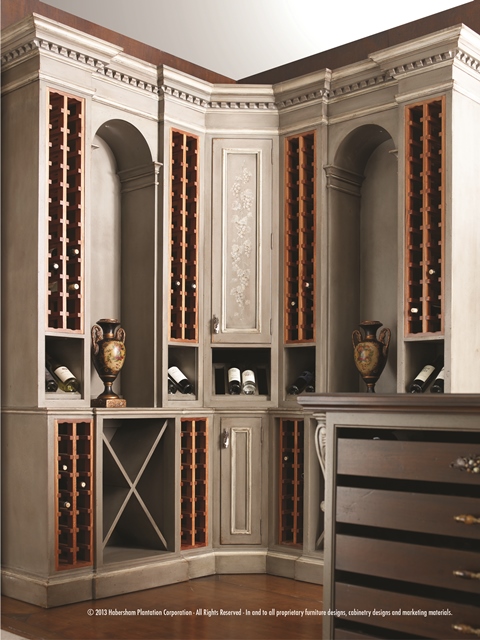 23-2700 Sonoma Wine Corner Cabinet – Sonoma, the heart of California's wine country, inspired the lovely, understated monochromatic art on our new corner wine cabinet.
23-8140 Shantelle Humidor – Show off and preserve your fine cigars in style. Our new Shantelle Humidor is available in countless finish options.
04-0410 Silhouette Mirror –Offering a subtle, yet elegant wall accent, the soft curves draw your eye to the stylish Queen Anne silhouette of this mirror design.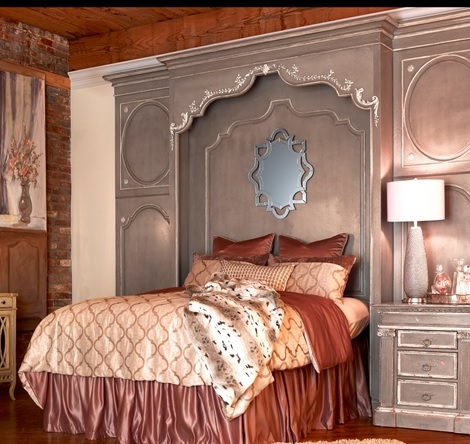 64-5760 Biltmore Sheraton Bed — This piece joins other designs in our licensed Biltmore® Chateau Reserve Collection that draw their inspiration from the entertainment and hospitality that defined the landmark Asheville, NC estate at the turn of the century. This particular design was inspired by elements from the Sheraton and Chippendale rooms at Biltmore Estate. Its 18th century English design style influences promise to add a touch of grace and elegance to any master bedroom.
01-2780 –M Nassau Home Theatre – Antique Mirror Back – A new twist to one of our most popular designs. We've added an Antique Mirror Back to the Nassau Home Theatre to create a rich look. Designed to hold most 46" plasma televisions, the center opening measures 44"w x 30"h x 14"d. Bottom drawers, ideal for storage of DVDs, CDs and other entertainment options, feature soft closing drawer glides.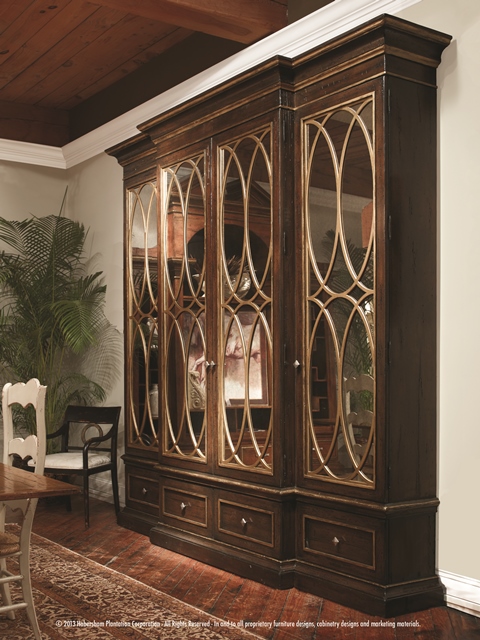 02-2381SC Standard Custom East Hampton Display/Media — One of the newest additions to our brand new Standard Custom furniture line. With Standard Custom pieces, your options are virtually limitless. For starters, you can choose from a variety of molding, glass/mirror and hardware options. When it comes to doors, you can also choose different mullion styles, solid doors and more. You dream it. We'lll create it!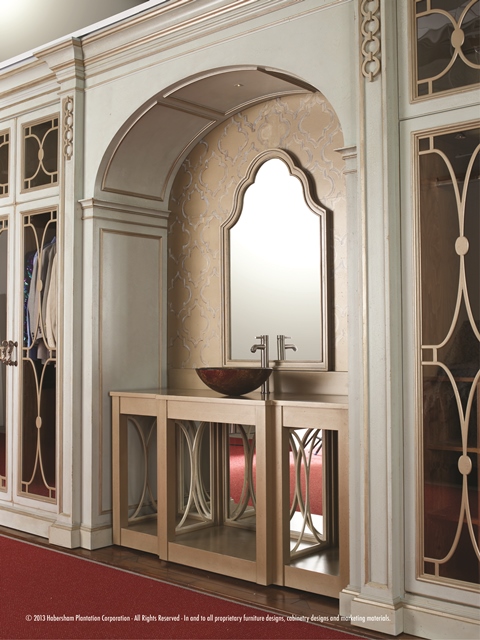 01-2352 Manhattan Sideboard –Sleek and stylish, this sideboard design promises to bring a lovely, cosmopolitan accent to any décor. Another new addition to our American Treasures® collection.
Dressing Room Designs – During High Point Market we also showcased a new dressing room design, shown here in our Salzburg finish. We are constantly enhancing our custom capabilities to create designs that reflect your own sense of style and lifestyle needs. From colors and storage space, to moldings, mirrors and more, contact us today to discuss how we can help you create the dressing room AND home of your dreams!