The Spring 2015 High Point Market welcomed the latest collaboration between Habersham and Biltmore® — our new Biltmore® Custom Built-In Cabinetry. Featuring bespoke designs for every room in the home, this collection was also joined by the newest additions to Habersham's popular American Treasures ® collection.
As we enter into the 11th year of a successful licensing partnership, the new Biltmore Custom Built-In Cabinetry brings our custom capabilities together with the unlimited design inspiration of Biltmore. The kitchen cabinetry shown at market was inspired by elements inside Biltmore's Louis XVI room and owner Geeorge Vanderbilt's kitchens, which were originally designed by prominent New York architect Richard Morris Hunt.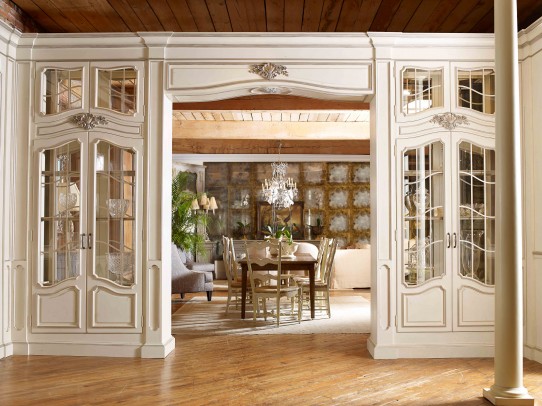 64-7505 BILTMORE GRAND ENTRY Everyone makes a grand entrance into any room with this stunning new design. Shown in Basilica White and Warm Silver finishes. Part of our new Biltmore Custom Built-In Cabinetry, this elegant entrance is sure to please. Choose from a number of styles and countless finish options – all designed to bring Biltmore's timeless elegance to any space in the home – from the dressing room and wine cellar to the kitchen, bath, library and more.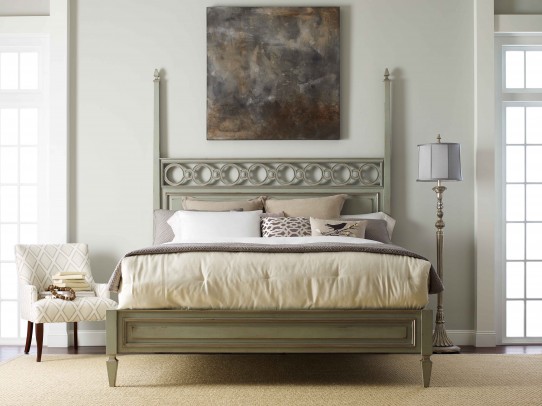 01-5770-K TIFFANY LINK BED– Part of our popular American Treasures collection, this bed features an interlocking tiffany link pattern with platform railing. Offering a nice mixture of classical and contemporary elements, this versatile, transitional design is sure to add an elegant accent to any bedroom
#23-8152 GRAND PALAIS DISPLAY CABINET Finished in our Graystone –75% distress and aging – with a custom interior finish – this piece features two upper glass doors, three interior glass shelves and one drawer with a lower wood shelf.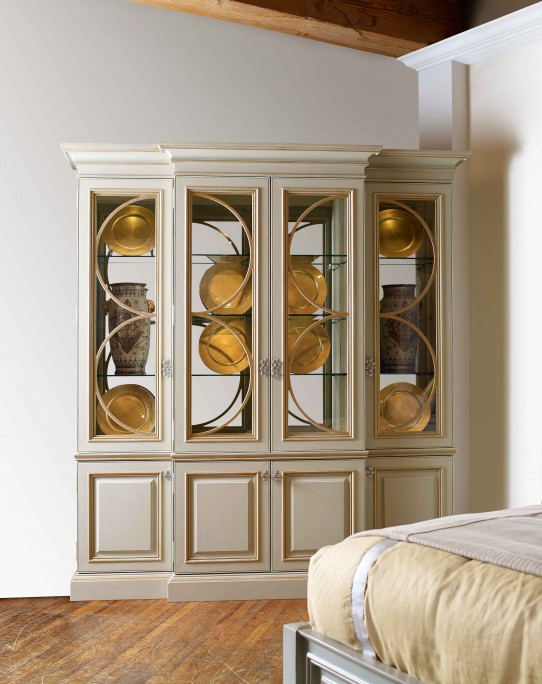 01-2385 HAMPTON BREAKFRONT WITH ANTIQUED GLASS DOORS Shown in Habersham's new Cosmopolitan "Madison Avenue" finish with gold accents. The interior finish is the new Cosmopolitan "Chiffon." It features 4 upper doors with antiqued glass with mullions. 9 adjustable solid glass shelves inside with plate grooves and 4 LED lights. 4 lower doors with 3 adjustable wood shelves.
17-2185 MALIBU TV CABINET Shown in Habersham's Graystone finish with warm silver accents and 50% distress and aging. It has one door on each side, 2 interior shelves, 3 false drawers. It was a big hit at market with its TV lift that accommodates most 40" televisions.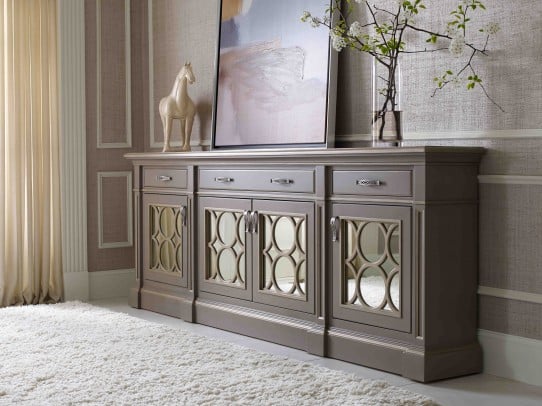 01-2363 SYMMETRY SIDEBOARD WITH MIRRORED DOORS Shown in Habersham's new Cosmopolitan "Rockefeller " finish with Champagne accents. Part of the company's popular American Treasures collection, this piece is customizable.
27-8170 CATSKILL MEDIA CABINET Shown in Antique Honey finish, this design is named for the favored mountain destination for urban vacationers from New York City and other parts of the country. The piece features two upper bi-fold doors and three lower doors with six interior shelves.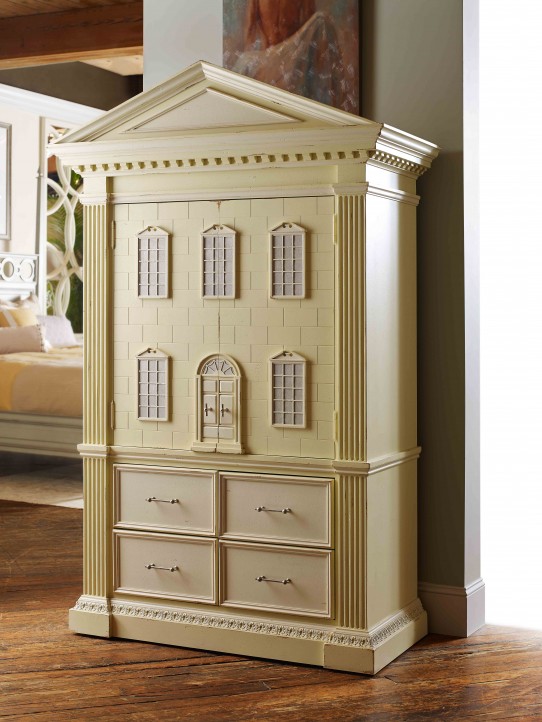 #27-4350 BETHANY CABINET Named for Habersham Founder Joyce Eddy's great granddaughter, this beautiful design is fit for a princess! Shown in Sandemar with richly detailed architectural elements on its front, it can be customized as a tv cabinet or wine cabinet. In addition, hand-painted art could also be added for a more whimsical touch.