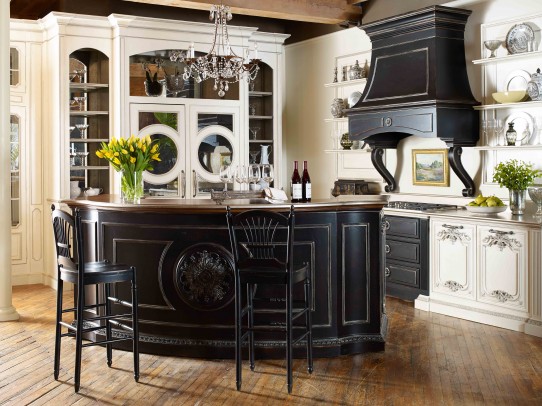 The Spring 2015 High Point Market welcomed the latest collaboration between Habersham and Biltmore® — our new Biltmore® Custom Built-In Cabinetry . Featuring bespoke designs for every room in the home, this collection was also joined by the newest additions to Habersham's popular American Treasures® collection and a brand new finish – Cosmopolitan.
As we enter into the 11th year of a successful licensing partnership, the new Biltmore Custom Built-In Cabinetry brings our custom capabilities together with the unlimited design inspiration of Biltmore. As part of the new program, designers and their clients will be able to choose from a number of styles and countless finish options – all designed to bring Biltmore's timeless elegance to any space in the home – from the dressing room and wine cellar to the kitchen, bath, library and more.
The kitchen cabinetry shown at market was inspired by elements inside Biltmore's Louis XVI room and owner George Vanderbilt's kitchens, which were originally designed by prominent New York architect Richard Morris Hunt. Also pictured, our new 37-3070 Kitchen Island, shown in Empire and Warm Silver.
Visit the "News" section of our website to see all our new designs!