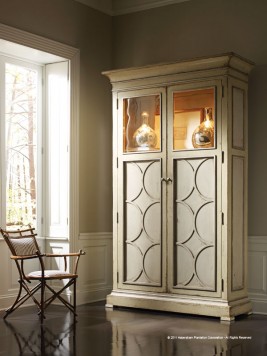 During the April 2-7, 2011 Spring High Point Market, Habersham will be showcasing the newest additions to our American Treasures ® collection of copyrighted furniture designs in our showroom – Market Square, first floor, space 142, Among the new designs are chests, coffee tables, a bed design, dining table, curios and a number of other accent pieces.
The newest Spring High Point Market designs follow in the footsteps of the initial launch — featuring the same classic, clean styling with a mix of contemporary geometric shapes added in.
The initial response we received during the Fall 2010 launch was so positive that we wanted to continue in the same direction for 2011 –adding even more choices. The Cosmopolitan Curio/Display Cabinet, shown here, is one such example.
We'll be blogging about other new pieces right up until opening day of market, so look for more details coming soon.