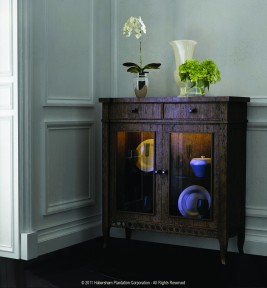 The Spring High Point Market is just a couple of months away and we've been working on a number of new designs that we'll be unveiling in our showroom at Market Square – MS-142 during the April 2-7, 2011 edition. I will be previewing some of these new designs via this blog over the next several weeks.
As I mentioned in last week's post, our main focus will be adding new designs to the popular American Treasures ™ collection we launched during the Fall 2010 market. Among the new designs we'll unveil during the Spring High Point Market include the new Soho Hall Chest with Glass Doors , shown here.
Like other pieces in the American Treasures ™ collection, this one offers a timeless, classic look that can blend into virtually any décor. Enhancing its versatility, the table is available in a wide spectrum of textures and hues found within our family of hand-styled finishes – each offering distinctive looks created by trained artists using a series of techniques, tools and exacting standards.
To see some of our other American Treasures™ be sure to visit our website.