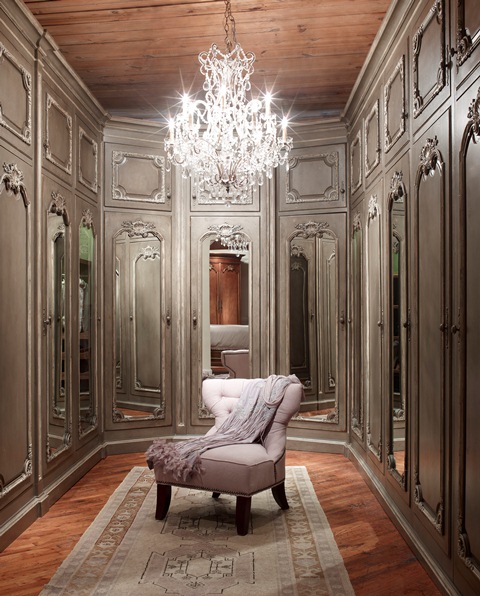 A key growth area in our custom category has been the dressing room/closet area. We're seeing increasing demand in both new home construction as well as renovation projects of older homes.
So I was especially interested to see a recent article in the Wall Street Journal (February 11, 2013) entitled, "The $100,000 Closet," by Candace Jackson. The article details the closet's evolution from a humble storage space to that of a trophy accessory, detailing how the space is growing in size to rival living rooms and equipped with breakfast areas, sound systems and chandeliers. In the article, Ms. Jackson writes:
"Once a secondary space designed primarily for storage, the humble closet is taking center stage. The latest in high-end master closets go well beyond the typical walk-in and are created to look more like plush lounges or designer stores. Clothing and handbags in glass display cases are lighted like sculptures; custom-designed couches are arranged near Baccarat crystal bars or dedicated breakfast areas.
Designers and architects say for some clients, the cost of the closet can rival or surpass that of the kitchen, topping $100,000 for large, custom-designed walk-ins with luxurious cabinetry, sound systems and office nooks. Increasingly, developers and home builders aren't only installing windows in closets, they are also configuring home layouts to make sure the closets capture some of the best views and natural light."
The article goes on to highlight when this trend really started to pick up steam — "Designers say the move toward more elaborate closets first began five to 10 years ago, and accelerated among wealthy homeowners with the debut of the 2008 film version of 'Sex and the City,' when Sarah Jessica Parker's character, Carrie Bradshaw, sees a home with a sprawling walk-in closet big enough for her large shoe collection."
We'd love to help you with your shoe collection! Whether your space is large or small, we can create a luxurious retreat that is as fabulous as it is functional. From Old World looks to grand American casual influences, you can choose from a vast palette of hand-styled finishes, wood stains, design styles and custom cabinetry options to create a luxurious and fabulously functional area that marries quality design with modern convenience. Visit our website to see some of our recent dressing room projects.