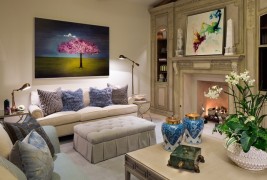 Featured Designer: Susan Spath, Kern and Co. —
Leading luxury interior designer Susan Spath has hit upon an interesting business marketing strategy. She builds and designs her own homes to serve a dual purpose – to live in and sell from. That is, she creates fabulous signature interiors for her own family and then shares these design ideas with her clientele.
"Using my own home as a showroom has been a nice strategy for me," she explains. "Many times we complete projects for clients that we would love to showcase. However, some clients do not want to open their homes for this purpose, which is certainly understandable. By using my own home, I can give clients a true glimpse of how furniture, cabinetry, accessories and fabrics work together in a real setting."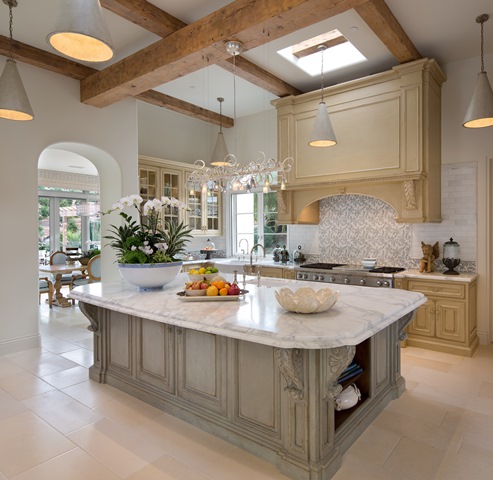 One of Susan's go-to cabinetry lines is Habersham, which she has used throughout her Rancho Santa Fe home, including the kitchen.
"Everyone always ends up in the kitchen, the true heart of this home," she says. "So I wanted to create a warm, welcoming and open space that would become the home's major focal point. I worked closely with the Habersham team to fine-tune finishes and designs and everyone comments on the comfortable, warm feel. "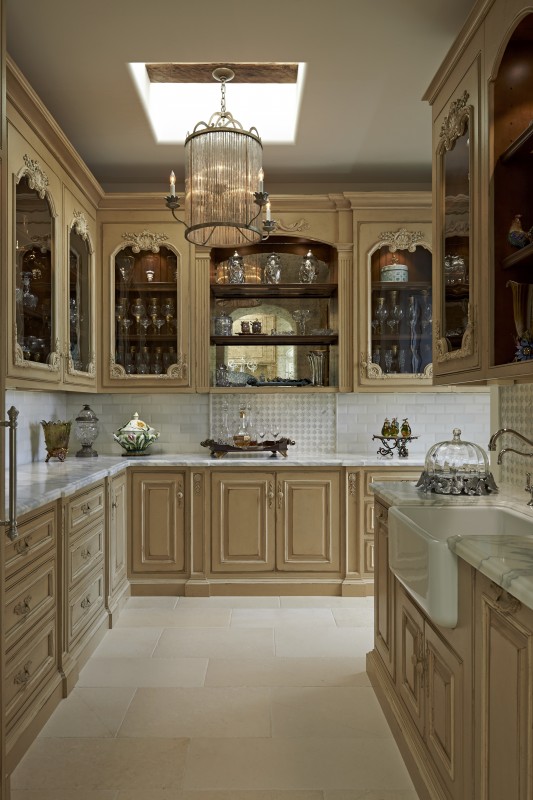 To help create the open ambiance, Susan opted not to use many upper cabinets.
Rather, she chose an island design with tremendous storage space and also created a secondary butler's pantry area for additional storage.
An avid cook, Susan was intent on developing a beautiful, working kitchen — complete with pizza oven, plentiful work space and top-of-the-line appliances.
Habersham custom cabinetry also plays a central role in Susan's lovely living room.
"I like to include a fireplace in every home I design, but I truly dislike the whole 'TV over the fireplace' thing,' " she laughs, explaining how she positioned the fireplace at one end of the wall, with a TV area in the center and then a bookshelf and door to the far right. She had Habersham finish the door, which opens into a study.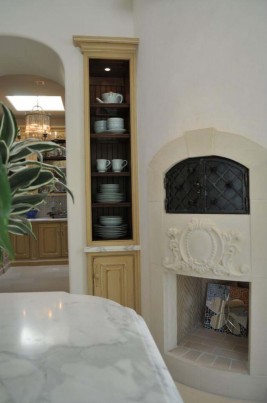 "This design allows us to use the room in many different ways," she explains. "If, for example, we have people over, those who want to watch TV can sit there, the fireplace area becomes a perfect place to sit and talk…there are now so many uses for the space."
Susan's stunning master bath also reflects her love of large, open spaces. Designed in an octagon shape, it is as fabulous as it is functional.
Her vanity area features a free floating mirror nestled between Habersham's custom cabinetry designs. Elegant curios up top provide the perfect complement to a vanity base with elegant crystal door pulls and a soft, muted finish. Susan chose to upgrade the base doors for a rich look.
Habersham cabinetry was also used for his side of the master bath and Susan chose pewter hardware for a more masculine look.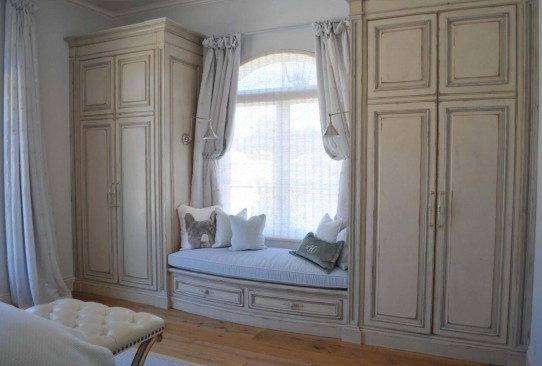 Susan also used Habersham in each of her daughters' bedrooms
"They each were dying to have window seats," she says, pointing to custom window seat designs, as well as complete closet/wardrobe designs – both from Habersham.
"I work with a number of high-end cabinetry lines but Habersham is very different than the rest. It really has the look and feel of furniture," she explains.
"It offers incredibly luxurious, elegant looks that exude a level of casual elegance at the same time," adds Suan. "Habersham has a natural, homey feel that's just beautiful. It's very livable."