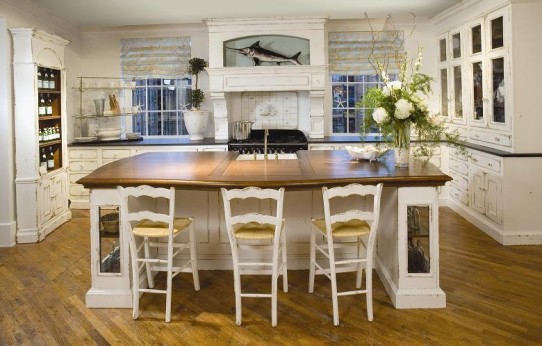 As we head into the summer months, our thoughts turn to beach vacations, cookouts and family gatherings.
Our cottage style kitchen design captures this wonderful spirit of summer and brings it into the home – all year long.
Marrying light, airy, casual looks with sophisticated design lines, we've worked to take cottage style to a whole new level. Our Grand Cottage lifestyle is all about simple elegance, and the style of custom kitchen cabinetry shown here, including range hood, island and storage cabinet designs, exudes a time worn warmth. Hand distressed woods, a breezy color palette , interesting textures and other natural tones come together to create a charming and comfortable coastal chic style for today's home.
Click here to see more of our cottage and other kitchen styles. And, I hope you have some wonderful things planned this summer!