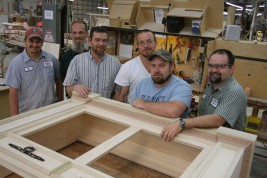 Pictured (L-R): Joe Smith, assembly; Don Peck, mill manager; Keith Gilleland, assembly; Allan Manns, assembly; Zack Watson, programmer; Tim Hanley, assembly.
The Habersham custom approach gives a whole new meaning to "team-building."
That's because Habersham has assembled a highly skilled team of veteran woodworkers and cabinet-makers who work closely with customers to create richly detailed, hand-styled custom cabinetry that conforms to any room space or style. And, many of our handcrafted furniture designs can also be custom-tailored to meet specific size, space and style preferences. Pieces ranging from beds and dining tables to kitchen islands, media centers and bookcases, can all be custom-built to virtually any specification.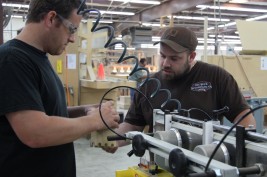 Zack Watson, who has been with the company for more than 8 years, currently serves as the CNC (computer numerical control) programmer for special and custom orders. With more than 20 years in the wood cabinetry business, Watson calls upon his extensive engineering skills and keen understanding of the intricacies of wood to program the CNC equipment to drill, carve, cut and reconfigure certain designs to exacting standards.
"I love what I do," says Zack. "Before coming here I was involved with more mass production cabinetry. At Habersham, we spend so much time with every step of the building process. We take great pride in what we do and always try to go beyond the client's expectations."
From Zack's station, the individual components move on to the panel saw, a sanding area and then to the builders. "We put the pieces together like a puzzle – hanging doors, adding hardware, glass shelves, trim and more," explains Allan Manns, an assembler who has been with Habersham for 7 years."We work to create the specific designs a customer has requested. So," he laughs, "we're not straight across the board like the more mass market furniture manufacturers. We're all over the board."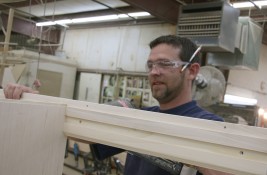 "Working here is a totally different ball game," adds assembler Keith Gilleland, who came to Habersham a little over four years ago. Working in cabinetry since he was 17, Keith adds, "I had to throw out all my prior experience as we do things quite differently here. The quality of work, unique finishes, attention to detail, and finished product are 100 times better than the work I have seen from other companies."
And it's this attention to detail – the tight joinery, quality hardware, the solid understanding of wood itself – that makes all the difference, explains Tim Hanley, who has worked in Habersham's assembly area for 13 years. "Wood swells and contracts so we have to be mindful of these changes when we're working with the engineering plans for our custom designs," he adds.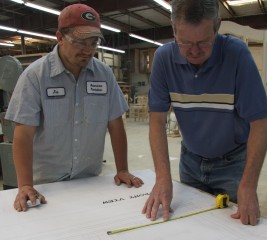 "Habersham is all about quality….things are built differently here," adds Joe Smith, who started his wood and cabinetry career with Habersham more than seven years ago. "The company has very high standards and expects a lot from us. Since most of what we build is made-to-order, nothing is ever the same so it's fun, challenging work."