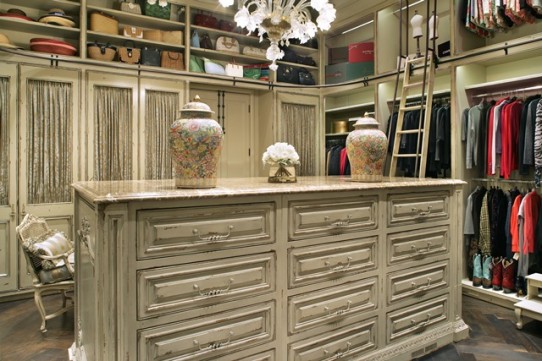 In the recent September 2016 issue of Traditional Home on newsstands now , the article "What's In Your Closet " written by Candace Ord Manroe and produced by Krissa Rossbund, outlines how today's closet/dressing room has become the new "it" space of luxury living.
The article says, "Remember when the word closet could be lofted as a put-down to describe a pint-size room (as in, "That bedroom's tiny as a closet")? In some circles, that insult now would be mystifying – the closet has become the new "it" space of luxury living. That means bye-bye-small fry, and welcome, literally, to the next big thing."
Here at Habersham, we're continuing to see growing demand for dressing room cabinetry for spaces of all sizes.
Completely customized to meet the client's space, style and wardrobe needs, designs include wide, deep drawers, plenty of shelving for shoes and accessories, hanging bars, mirrors, space for luggage, safes, hampers and more.
We also give clients the opportunity to choose from a vast palette of hand-styled finishes in rich colors, tones and textures to create private, luxurious spaces. To see some of our latest designs, be sure to explore our website's cabinetry section.