Habersham has gained a strong reputation for its unique, richly detailed finishes over the years. And with good reason. Calling upon a series of propriety techniques, tools and exacting standards, the company's talented team of finishers and artists has created distinctive looks unlike anything else in the marketplace today.
Our customers can choose from the wide spectrum of textures and tones found within our own family of hand-styled signature finishes, including Connoisseur, Studio, Gallery and Essentials. Or, look to the vast palettes of Benjamin Moore ® and Sherwin-Williams ®, which collectively encompass more than 4,400 different colors. From aged, distressed influences to simpler, cleaner styles, our artists can create the look you seek using any color you desire.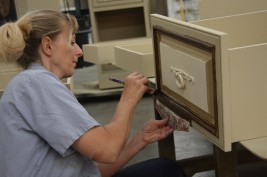 "I focus on the aging aspect of the finishing process," adds Vivian White, whose own mother worked here for many years before Vivian joined the company five years ago. "Creating an authentic look is key," she adds, explaining the trimming, wiping, aging and brushing methods she employs. "I absolutely love this job. We take great pride in our work and it's so exciting to see the final results of our efforts in each finished piece."
Also involved in the aging process, Robert Blalock uses a series of techniques and tools to give pieces heavy antique marks that imply generations of use. Responding to customer feedback about how much or how little distressing they want, Robert works to match their expectations. "I won't stop until I get it the way the customer wants it," he adds.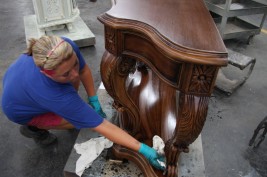 "My job is to give a sense of depth to the piece," adds Dena Savage. With Habersham for the past four years, Dena works to stain and glaze furniture and cabinetry to meet the special requirements of each customer.
"Our finishing process has certainly evolved over the years but the attention to detail has never wavered," observes Wanda Taylor, who has worked for the company for more than 15 years. "We're all part of a family here and we really care about what we do. Customer satisfaction is key."