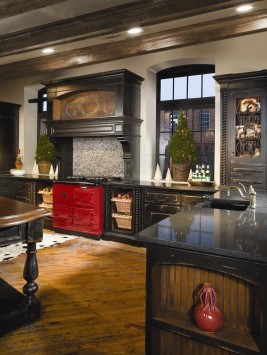 Our Mountain Estates custom cabinetry lifestyle creates a Grand American Casual sense of style for a wide range luxury retreats — from Highlands, NC to Sedona, AZ.
This lifestyle includes warm, rustic, hand-rubbed finishes and grand scale, sturdy cabinetry designs with elegant accents as dramatic as the indoor and outdoor spaces surrounding them.
In addition to Mountain Estates, other custom cabinetry lifestyles include French Country, Country English, Grand Cottage, Tuscan, and Continental. With our extensive custom cabinetry capabilities, you'll find that the style and color choices are limitless.
Whether it's your vacation home or your primary residence – in the mountains, on a lake, by the golf course or in the desert – our artisan team can help you create a kitchen that perfectly reflects your own lifestyle. Click here to see some of our other cabinetry styles.