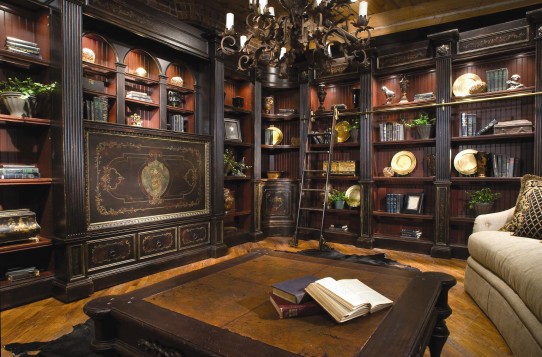 We designed our Belmont Library System with complete customization in mind. This particular design brings your choice of curved and corner units, bookcases, rolling ladder and a TV unit together in countless combinations to fill a room corner, wall, or entire room. Its versatile design, together with hand-styled finish options, invite you to truly bring a touch of grand European elegance into your home.
We've also added a number of bells and whistles that help ensure that the design's form flatters its functionality. For example, the TV unit features an auto, remote-controlled lift to conceal the TV. The unit also includes lights, adjustable wood framed glass shelves and three drawers – ideal for storing DVDs.
Bookcases and curved corner cabinets also feature wood framed glass shelves and adjustable shelves. To see more, click here.