Architect: Pat Fox, Fox Architects
Photography by Peter Rymwid
"This home is the topper to my life, a true labor of love," says Donna, describing the stunning home she shares with husband Paul in Tulsa, OK.


An interior designer who spent years helping others bring their dream homes to life, Donna had a vision for her own home and felt the time was right to make it a reality. She and Paul contacted architect Pat Fox, founding principal, Fox Architects. Fox had designed the couple's previous home and they had no doubt he was the one who could help them design and build their dream home from the ground up.
"Pat is truly a special architect. He's so open to ideas and really listens," said Donna.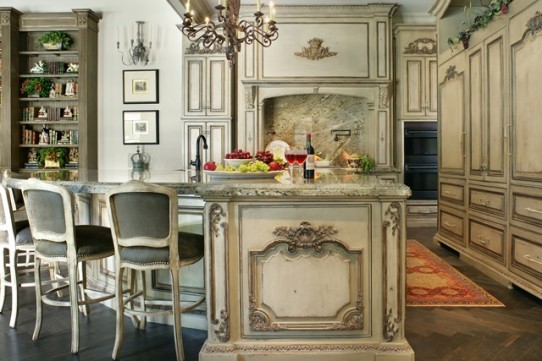 "Donna has a strong love of French art and antiques, so I looked to northern French architectural style for this project," explains Pat Fox, of the 12,000-square-foot home. "When I design a project, I stay very pure to the style and do not mix or blend styles. I don't like mixed metaphors. So this home is pure French Normandy style."
In the true spirit of Normandy style, the grand exterior composition is stone with a slate tiled roof. Copper dormers add an old world elegance.
Donna knew what she wanted in her home design, which forms a "u" around a private courtyard complete with reflecting pool , lush French gardens all around and a lovely guest apartment. "Oklahoma doesn't look like much," she laughs, "so we wanted to create an inviting living space with beautiful views from every window. Paul and I entertain quite a bit, hosting non-profit and other events, and we wanted to create wonderful spaces for gatherings."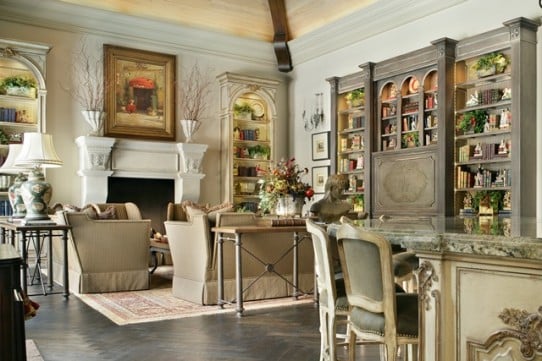 "I do a lot of design that is traditional in feel, but it is the space that is key," adds Pat. "So each room in this home has been designed with an abundance of space in the old Norman manor style, which is amplified by ceilings that reach heights of twenty-two feet."
"All my treasured French antiques had to move upstairs as they were just not tall enough to work in the atrium and other grand living spaces on the main floor," laughs Donna. "The rooms are very large but we've appointed them with unique accents and other elements, so the space feels very French and, despite the size, quite intimate."
"Everything needed to be built to scale," she adds, "and Habersham cabinetry offered the perfect solution. The Habersham team was so wonderful to work with. In fact, the cabinets were the only thing that came in on time in the entire house!"
"Habersham's custom cabinetry worked wonderfully well in helping achieve the look and pure French aesthetic were going for," adds Pat.
Habersham cabinetry flows throughout the home. In the kitchen, Habersham's Venetian Hearth range hood provides a striking focal point, flanked by spacious cabinets and storage. As fabulous as it is functional, a vast island sits under a stunning chandelier crafted from antique candleholders. The island offers seating space, an ample food prep area, sink and storage. Integrated refrigeration and other cabinetry hides appliances, adding to the rich, old world look.
The cabinetry's soft colors and French styling flow into the living room where custom bookcases complement a cast concrete fireplace. Habersham's hand-painted Belmont Wall System ties it all together.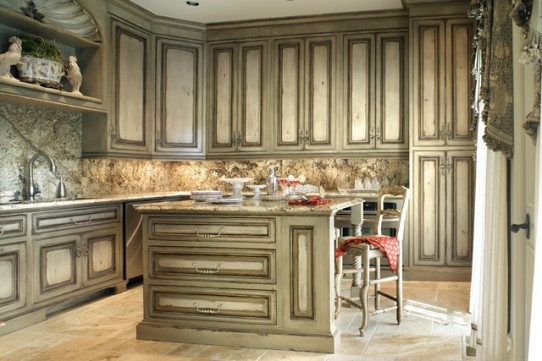 Habersham cabinetry can be found in countless other rooms and spaces throughout the home. Among them, a catering craft kitchen, a soaring, full bar area complete with integrated wine refrigeration, and storage and laundry room.
"I have the most gorgeous laundry room," laughs Donna of the fabulously appointed space and its custom styled shelving, drawers, storage and cabinets.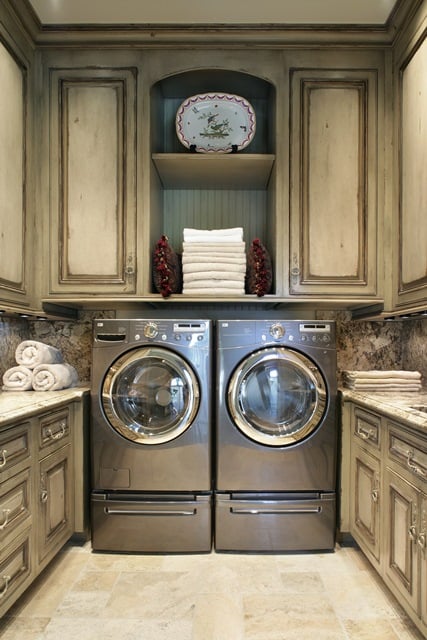 "The floorplan for the home is exceptional," she explains. "There are wings that go off in either direction, offering passageways to private spaces like bedrooms, a huge study and others areas that can all be closed off as needed."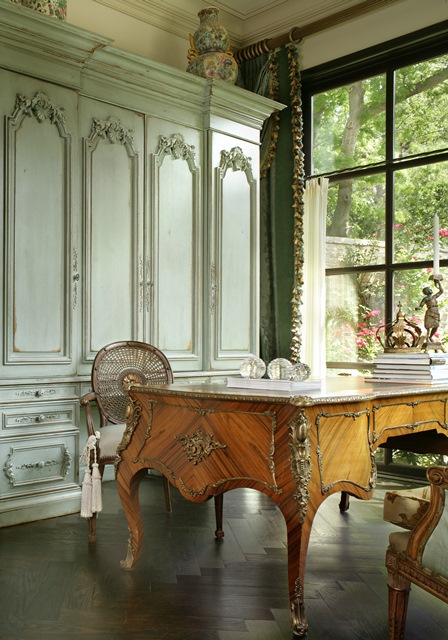 The master bedroom suite, which includes an office/study, bath and dressing room, offers a true "suite retreat" from the outside world.
This private oasis provides the perfect escape from the stresses and strains of the outside world.
Tub surround cabinetry envelops the luxurious spa tub at the center of the bath, which is complemented by the meticulously hand-styled and finished vanity and cabinet designs.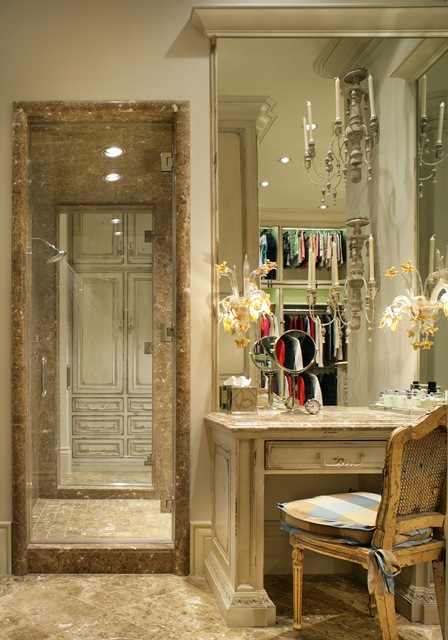 The dressing room itself is a study in elegance, style and practicality with a center storage island and countless other storage and shelving features – all custom-tailored to Donna's needs and style preferences.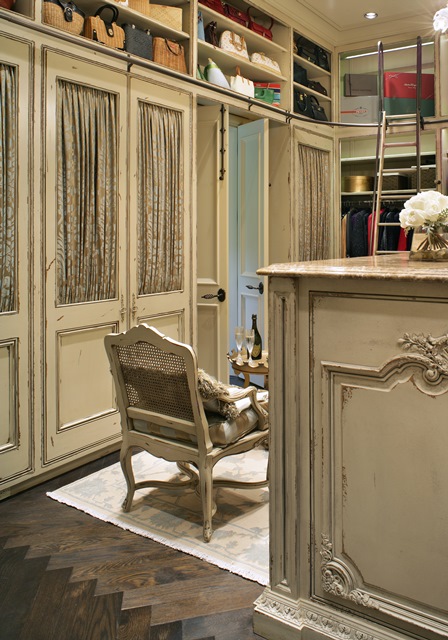 Donna also chose Habersham cabinetry for one of the guest baths as well. Here, a double sink vanity and separate make-up vanity area offer the optimum in convenience.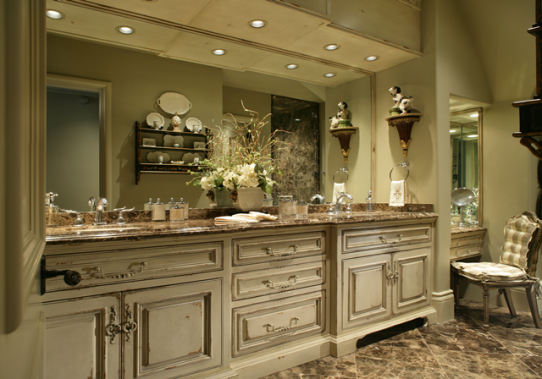 In addition to the main home, there is also a lovely guest apartment with views of the pool area. Donna looked to Habersham for this space too. A study in space efficiency, the apartment's small Habersham kitchen is large on style with its breakfast bar/island, plentiful and practical storage cabinetry.
"This house is really special. I've done design work all over the country and know it's the little touches that truly make the house," Donna says. "From our lovely Habersham cabinetry to my treasured antiques to dramatic lighting fixtures and fabulous furnishings, we've been able to create a house that lives very well. "