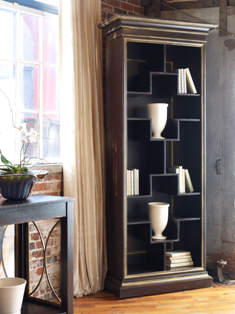 There is always an ebb and flow to design. Traditional is in one moment, contemporary the next. Right now, we're seeing a juxtaposition of sorts. Traditional looks will always endure but as you flip through the pages of today's shelter magazines, it seems that the retro, contemporary, modern looks are really coming on strong.
With our new American Treasures ® Collection of copyrighted furniture designs, we've worked to strike a transitional cord with simpler lines and cleaner looks that can blend into traditional and contemporary settings alike.
Among the pieces that made its debut during the October High Point Furniture Market is the Loft Bookcase, shown here. I like to collect interior and design magazines, which I often use as reference materials. So in addition to providing a nice showpiece for accents and books, I sized the shelves so that they could provide the perfect space for these types of magazines too. We'll be posting some more of our new American Treasures ® pieces here soon so check back regularly.