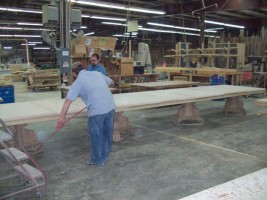 Here at Habersham, we believe that if you can envision it, we can build it. To give you an idea of some of the design visions we help create, I thought you might like to see one of our works in progress. Here, our builders are working on a 24' table we've been asked to create for a project in Texas. The designer sketched out the general idea for the grand scale table and our team went to work. We'll keep you posted on the table's progress and will certainly post a shot of the finished design here soon.
We've been working hard to expand our custom capabilities in recent years so we can do even more projects like this. We've assembled a highly skilled team of veteran woodworkers and cabinet-makers who work closely with customers to create richly detailed, hand-styled custom cabinetry that conforms to any room space or style. And, many of our handcrafted furniture designs, like this table, can also be custom-tailored to meet specific size, space and style preferences. Pieces ranging from beds and dining tables to kitchen islands, media centers and bookcases, can all be custom-built to virtually any specification.
To learn more about our customization capabilities, visit our website.