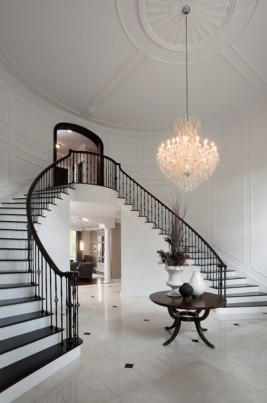 Featured Designer: Cheryl Nestro, Principal, Tutto Interiors
What began with a mattress on a metal frame soon evolved into an extensive, award-winning home interior redesign project by Cheryl Nestro of Tutto Interiors.
With the exception of that mattress and frame, the 10,000-square-foot home was completely empty when Cheryl arrived for her first meeting with the client.
"The home is traditional in style and my client showed me a range of inspiration photos that were very glamorous, evoking the look and feel of a different era," said Cheryl.
After that meeting, Cheryl embarked on an extensive remodel of the home. Among the many things Cheryl did included tearing out walls to open up spaces; adding 9' and 10' doorways to the lower level to let the outside in; and converting a former theater room into a basketball court.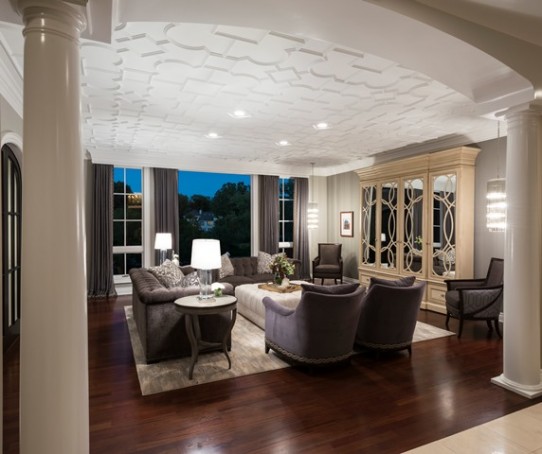 "We completely redecorated all three levels of this home," she says, explaining the complete transformation. "My client is a doctor with a very busy lifestyle so our goal was to create a stylish, yet comfortable home environment that gave him a place to truly unwind."
As you step into the home, you are immediately transported to that "different era" by a view of an expansive double stairway. Cheryl added extensive millwork to create a sophisticated, stylish ambiance.

Beyond the entrance is the stunning great room, which features Habersham's American Treasures East Hampton Media Cabinet.
"These days, it is unusual to work out a great room plan that does not feature a TV over a fireplace," she explains. "Since the space didn't have a fireplace, it gave us the chance to house the TV in a media cabinet design from Habersham that perfectly reflected my client's glamorous style sensibilities. "

The entire project took 18 months to complete. In addition to recognition from the design community with a Detroit Home Design Award for Best Traditional Great Room/Living Room, Cheryl received what she considered the best reward of all – complete client satisfaction…
"He told me, "I feel my house has evolved into something I never imagined it could be."