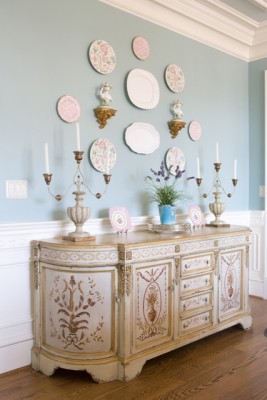 Uniquely mine…. It's one of the strongest trends in the marketplace today. Whether it's posting thoughts and pictures on Facebook, Twitter or blogs, ordering custom designed wedding invitations and birth announcements, or even creating personalized messages on candy M&Ms, today's consumers are increasingly seeking ways to make things uniquely theirs.
At Habersham, this isn't a trend so much as the driving force behind our designs and styles. Our design team is always expanding our color palette with new textures and finishes to meet a wide range of style preferences.
And, we're always working to increase and enhance our customization options. Whether it's a special size or color request, we will find a way to mold our design to your specialized needs. For example, a client liked the decorated art elements of the Cotswold Sideboard shown here, but wanted to make some color and textural changes. In response, we dialed back the signature distressed, sanded looks of the original design and worked from a vibrant color palette the client specified for the hand-painted decorative elements. The result? A piece that truly complemented and completed the color story of the overall room design.
If you see a piece or cabinetry style you like, remember that we can work with you and/or your designer to customize it and make it uniquely yours.