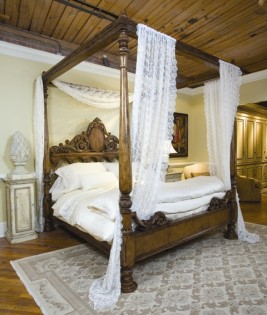 When looking for new design ideas, our artisan team has access to some of the most celebrated homes in the world. Through our licensing partnerships with Biltmore™ Estate, Hearst Castle®, and the Claude Monet Museum, we have a virtual treasure trove of stunning antiques, architecture and rich history to call upon to create new furniture designs for today's home.
We highlight a number of our licensed designs on the website and I encourage you to navigate through the Furniture section to see some examples, including the Celestial Canopy Bed, shown here. Part of our Hearst Castle Collection ® , this piece reflects the 16th century Florentine style of a bed featured in the castle's beautiful Celestial Suite.
Hearst Castle was once the private home of publisher William Randolph Hearst and is now a California State Park. By partnering with Hearst Castle, our design team has been inspired by one of the most spirited, productive and long lasting architectural and interior design projects in American history. Media magnate William Randolph Hearst and Julia Morgan, the first prominent woman architect in America, collaborated for 28 years on the creation of Hearst Castle®.
We have amazing access to the estate's many rooms, guest houses and archives, as well as Julia Morgan's stunning architectural renderings and creative sketches — so our design potential is limitless. We're always adding new designs to all of our licensed collections and I'll be sharing more information on these new designs with you soon.